Are you struggling to increase ROI? Harness the potential of shoppable media and social media platforms: Instagram, TikTok, Facebook, and more! By having an effective strategy for leveraging shoppable media on these channels, you can continually drive product growth. Consequently your products will stand out in this competitive marketplace. In today's blog post, we share tactics for using popular social networks like Instagram and TikTok for engaging shoppers. From creating compelling visuals to incorporating trend-focused stories – discover how you can use shoppable posts and experiences through various channels in order to maximize sales without increasing ad spend!
Introduction
Shoppable media is an innovative new marketing platform that has changed the way we consume content online. With its roots in social media, shoppable media allows business owners and marketers alike to capitalize on the ever growing power of these platforms by seamlessly integrating them into their existing strategies. Nowadays, major networks like Instagram and TikTok make it easier than ever to create captivating visual stories around products and services while providing a simple purchasing experience for customers. However, despite being easy-to-use tools with massive potential advantages for businesses out there, mastering shoppable content creation still requires research and skill. In this blog post we will explain how companies can take full advantage of shoppable media in order to boost their brand awareness and increase sales on these popular platforms.
Using Instagram for Shoppable Media
Instagram's shoppable feature provides an easy and convenient way for businesses to let their customers shop without ever leaving the platform. In fact, according to a survey conducted by Facebook, 83% of Instagram users say they discover new products and services on Instagram. 
To get your account in tip-top shape, you'll want to make sure that product images are of higher quality than most posts on Instagram. With millions of posts being uploaded every day, it is essential to make sure that your product images stand out and catch the attention of potential customers. Also create captions that connect with users and give them something valuable – not just a sales pitch! With this, you'll inform and engage the audience.
Add relevant hashtags so more people can find your products or services and showcase products in eye-catching ways, like demonstrating them in action or emphasizing unique details. These strategies can help businesses stand out in the competitive marketplace of Instagram.
Don't forget to elevate strong calls-to-action and make sure they're enticing enough to motivate users into clicking through queries and making purchases. To assess the effectiveness of these efforts, analyze click rates and conversions. According to Hootsuite, Instagram has a conversion rate of 1.08% for e-commerce businesses, making it one of the highest conversion rates of all social media platforms.Then use the data gathered for optimization purposes that can help continue expanding visibility & consumer reach on a global scale.
By following these strategies and continually optimizing their approach, businesses can take full advantage of Instagram's shoppable feature and grow their online presence.
Using TikTok for Shoppable Media
If you're ready to take your shoppable media strategy beyond Instagram, TikTok's gotcha covered! According to a report by App Annie, TikTok was the most downloaded app worldwide in 2020, with over 850 million downloads. Its in-app shopping feature adds seamless purchasing power to businesses' videos – so customers can explore and buy without ever leaving the app. 
To make the most of this platform, businesses need to stay up to date with the latest trends and incorporate them into their brand messaging. Make sure that when crafting engaging videos for this platform, you keep up with what soundtracks and hashtags are trending – then come up with creative ways of incorporating them into your brand messaging.  By doing so, businesses can increase the visibility and engagement of their content, leading to higher conversion rates and increased sales.
Incorporating user-generated content into shoppable TikToks can also help build trust and credibility with potential customers. A survey by Kantar found that 68% of TikTok users have watched a video to help them make a purchase decision so make sure you highlight your products' unique features and gain trust from consumers by incorporating user-generated content in your shoppable TikToks.
Track metrics like click-through, conversion, and engagement rates to see how successful these efforts are – it'll help power up your brand's presence on the platform! You will gain valuable insights into the effectiveness of your shoppable media strategy on TikTok.
Where to Buy solution
Businesses that succeed in driving sales through platforms like Instagram and TikTok understand the importance of making it easy for customers to purchase their products. By incorporating a Where to Buy solution into your social media strategy, you give to potential buyers a streamlined checkout experience. Besides offering competitive pricing, make sure to also provide detailed product information and use high-quality images when optimizing your store's reach online. Knowing what works (and what doesn't!) is essential to staying ahead in the shoppable media game. Keep a close eye on your sales, and use any data you find to tailor-make strategies that will help boost conversions. By understanding customer behavior, decisions become easier – improving overall success chances!
Conclusion
Shoppable media is an excellent tool for brands to further expand their outreach and increase sales. By taking advantage of platforms like Instagram and TikTok, you can make sure your brand stays on the cutting edge of marketing and reach potential customers in a way that speaks directly to them. Although it may be challenging to optimize your content across these different platforms, having a clear strategy, understanding shoppable media features, and supplying a simple Where to Buy solution can help ensure that all of your efforts translate into increased sales. No matter what size business you are or what industry you are in, utilizing shoppable media can benefit your brand in multiple ways – from boosting engagement to driving more conversions. Start thinking about how you can take advantage of this powerful tool today, and watch as it makes itself known across your entire customer journey.
Want to chat about how integrate a Where to Buy solution in your social media strategy? Get in touch today!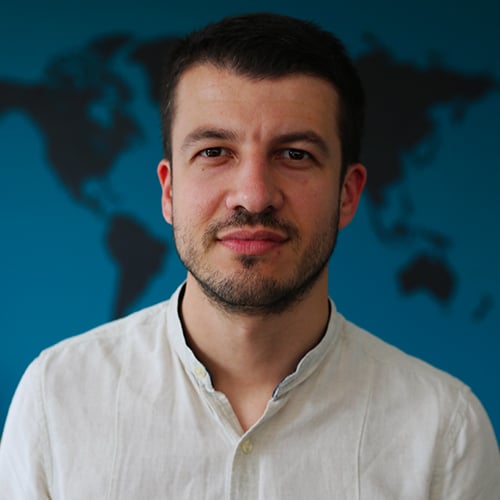 Want to see a live demo?

Curious about how to integrate?

Any questions about pricing?
Still have some questions about Click2Buy?
Sales Director at Click2Buy, Bastien and his team are ready to sit down with you and evaluate how the Click2Buy solution can boost the efficiency and value of your communication channels.
Request a call back during the day or schedule an appointment with the Click2Buy teams in just a few clicks.