Are you looking for a way to take your marketing campaigns to the next level? If so, shoppable media is an increasingly popular and effective choice. In fact, 64% of shoppers prefer purchasing through shoppable media over other methods. But how do you go about creating a successful campaign from scratch? In this blog post, we'll provide a step-by-step guide on how brands can easily build and deploy their own shoppable media campaigns – perfect for anyone eager to attract more customers in 2021! All it takes is strategic planning and implementation – get out there and make some noise!
What is Shoppable Media and Why Should Brands Care About It?
Shoppable media is a type of digital advertising that allows consumers to purchase products directly from ads they're viewing or engaging with. This type of media goes beyond traditional display ads in that it offers shoppers an easy way to purchase products without having to leave the current page or website they're browsing. As such, it's becoming increasingly popular among both businesses and consumers alike. In fact, 64% of shoppers prefer purchasing through shoppable media over other methods. This makes it an incredibly powerful tool for brands looking to increase their customer base and revenue.
Shoppable media is becoming increasingly popular among both brands and consumers. According to a survey by Bazaarvoice found that 72% of consumers said they were more likely to buy a product if they saw a shoppable image or video on social media. These numbers show that shoppable media is not just a passing trend, but a marketing strategy that is here to stay.
So, why should brands care about shoppable media? For one, it allows them to meet the demands of modern consumers who want a more seamless and convenient buying experience. Additionally, shoppable media can help brands stand out in a crowded digital landscape by creating engaging and interactive content that drives conversions. By using shoppable media effectively, brands can increase sales, build customer loyalty, and improve their overall digital marketing strategy.
How Can Brands Create a Shoppable Media Campaign That Resonates With Their Audience And Drives Sales Conversions?
Target the right audience
The first step in creating a successful shoppable media campaign is to create content that resonates with your target audience. To do this, start by doing research on who your target customer is – what age range are they in? Where do they live? What interests them? After you have this information, decide which format of shoppable media will be most effective for engaging customers (e.g., video ads versus static images). Then develop creative content tailored specifically towards your target customer – if possible make sure it ties into any existing content or brand messaging you already have out there. Make sure you include clear calls-to-action throughout! Once you have your creative ready to go, decide where it should be distributed (e.g., YouTube or Instagram) as well as when (days/times) would be best to get maximum engagement from your target customer base.
Research your target audience and their shopping behaviors
One way to ensure that your shoppable media campaign resonates with your audience is to research their shopping behaviors. According to a study by BigCommerce, 96% of Americans have made an online purchase at least once in their lives, and 80% have made an online purchase in the past month. By understanding the shopping habits of your target audience, you can create content that is tailored to their needs and preferences. You can also use data from social media platforms and Google Analytics to learn more about your audience's interests and online behavior, such as what types of content they engage with and what times of day they are most active.
Ensure your content is visually appealing and easy to navigate
Visual appeal and ease of use are crucial elements in creating shoppable media that resonates with your target audience. In fact, a study by Adobe found that 38% of users will stop engaging with a website if the layout is unattractive. Use high-quality images and videos to showcase your products and make sure that your website or social media page is easy to navigate. It's also important to ensure that your content is optimized for mobile devices, as more and more consumers are using their smartphones to shop online. According to eMarketer, mobile commerce is expected to account for 72.9% of all e-commerce sales by 2021.
Engage with your audience and encourage user-generated content
Another way to create a shoppable media campaign that resonates with your target audience is to engage with them and encourage user-generated content. According to a study by Bazaarvoice, 64% of millennials and Gen Z consumers want brands to give them the opportunity to co-create products and services. By asking for feedback and encouraging users to share their experiences with your products or services, you can build brand loyalty and establish a community of engaged customers. Consider incorporating user-generated content into your shoppable media campaign, such as by featuring photos and videos of customers using your products. This can help to humanize your brand and make it more relatable to your target audience.
Tips For Optimizing Shoppable Media Campaigns For Success
When creating a shoppable media campaign there are several key elements that must be taken into consideration in order for it to be successful:
Use tracking tools such as analytics software or UTM codes so you can measure the performance of each ad/campaign
Utilize A/B testing techniques so you can determine which messages resonate better with your target audience
Optimize content for mobile users – since many shoppers buy through their smartphones these days
Leverage data insights around user behavior so you can tailor campaigns accordingly
Utilize influencer marketing tactics if applicable – using influencers can help get more eyes on your ad/content
Encourage users to share the content – if users find value in what they see then they'll likely share it with others, thus increasing visibility
The future of shoppable media looks highly promising — experts predict that by 2024 spending on digital advertising will nearly double compared with 2019 levels ($129 billion vs $69 billion). As such, it's important for brands today to begin preparing themselves now by investing time into understanding this platform and utilizing all available resources available (i.e., tracking tools like analytics software). Furthermore, understanding user behavior patterns will become increasingly important over time — knowing exactly when customers are most likely engaging with certain types of content can help shape entire campaigns from start to finish (i.e., crafting copy around peak times).
Wrapping up
Shoppable media campaigns offer an innovative way for brands to reach their consumers by providing an immersive experience while also driving sales conversions at the same time. While creating these types of campaigns can seem daunting at first, following our step-by-step guide should help alleviate some stress surrounding this process – allowing brands focus more on creating high quality content rather than worrying about how they will get it seen! Additionally, if done correctly these types of campaigns have proven themselves capable of generating tremendous ROI – making them well worth investing in if done strategically with an eye towards continuous optimization throughout each phase! With all these benefits combined together – there's no reason not try out this powerful form marketing today! All that's left to do is to find your Where to Buy solution of choice. Speaking of which…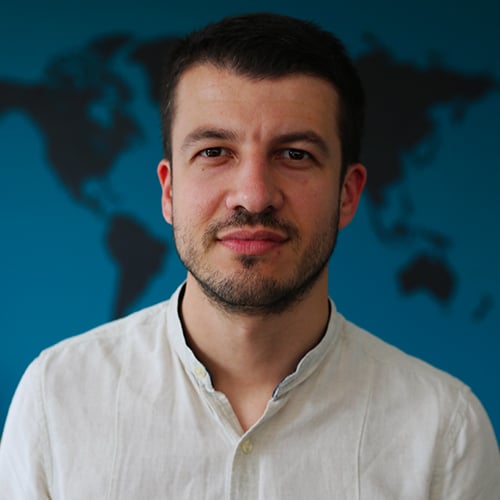 Want to see a live demo?

Curious about how to integrate?

Any questions about pricing?
Still have some questions about Click2Buy?
Sales Director at Click2Buy, Bastien and his team are ready to sit down with you and evaluate how the Click2Buy solution can boost the efficiency and value of your communication channels.
Request a call back during the day or schedule an appointment with the Click2Buy teams in just a few clicks.