Are you a brand and starting to question which solution would work best for your business between D2C via e-commerce and where to buy? While the latter offers your customers the possibility to make their purchases via multiple sales channels, e-commerce has only one option: online sales. Find out how the combination of these two solutions can improve your conversions, allow you to collect data and boost your ROI.
E-commerce or where to buy: which one should you choose?
Analyzing the two options
The direct-to-consumer (D2C) solution, while powerful in its own right, has several limitations. By offering only one sales channel, you reduce your customers' choice. You risk losing customers who want to buy from a specific retailer or physical store. What if they have a gift card for a specific store? Or a rewards card?
Where to buy is a powerful solution to provide a more robust and fluid customer journey and increase the amount of potential sales of your product. You can implement it on just about any website without having to transition into e-commerce. The W2B button redirects your customers to all the points of sale that carry the product in stock. If the customer chooses to pick up his product in store, the store locator – integrated to your website – geolocates the point of sale and even provides an itinerary to the customer.
Good to know💡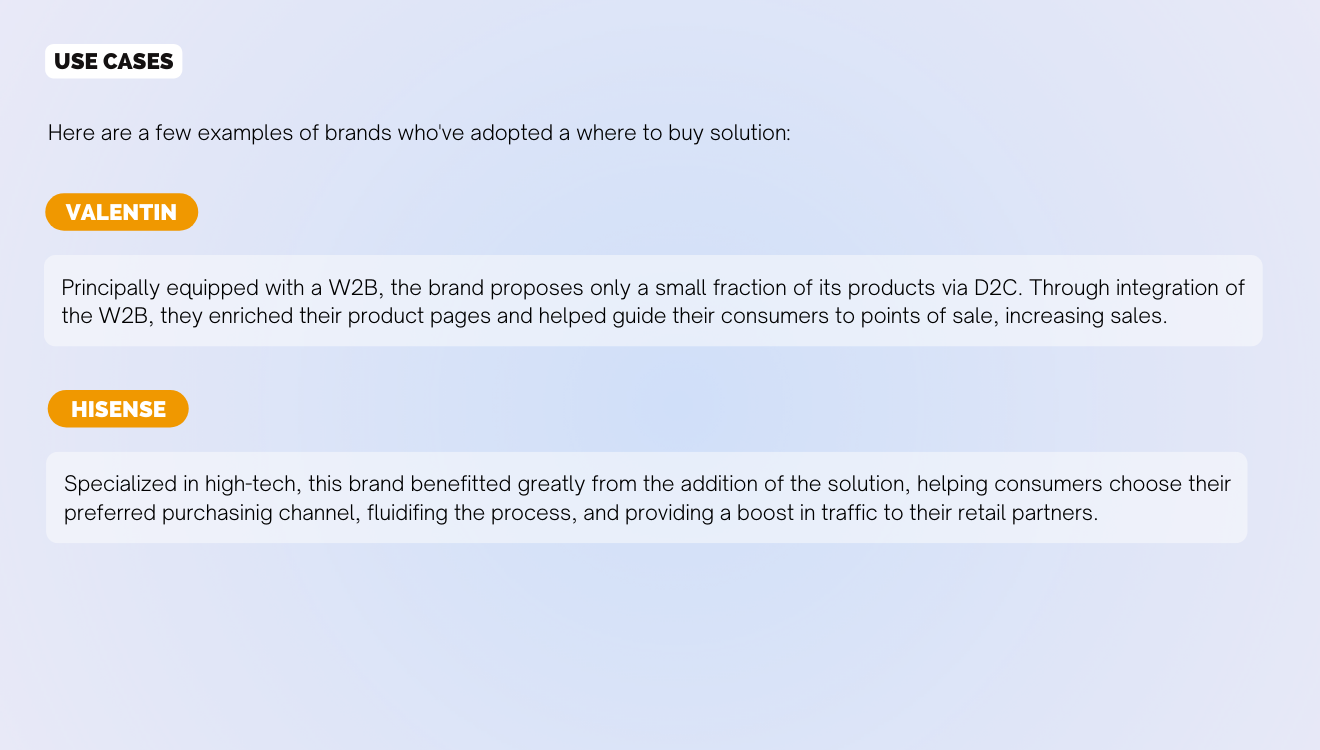 D2C or W2B, each of these two options has its own set of advantages. By choosing to combine them, you get the best of both worlds – a multichannel solution both proposing physical and digital points of sale. This combination helps you make the most out of your traffic and maximize your conversion. For example, Magimix added a "Where to Buy" button on all the product pages to great success.
What are the advantages of combining the W2B and D2C?
E-commerce and where to buy are two solutions that complement each other perfectly. Discover the advantages you can benefit from by opting for both.
Improve the customer journey 
An efficient customer journey is an essential asset if you want to increase your conversions and your ROI. To do this, put the decision-making power in the hands of your consumers by offering them the choice to get your product the way they want it.
Making D2C coexist with W2B makes total sense! Instead of only directing your customers to one sales channel, offer them multiple solutions with online purchase, Click&Collect, delivery and purchase in physical stores.
Increase your conversion rate  
Implementing a where to buy solution to an e-commerce allows you to boost the overall purchase rate, whether it is on the website or from resellers. If a consumer is interested in a product, but doesn't know your brand, it can negatively impact their likelihood to purchase. By displaying retailers with W2B, consumers can recognize one or more brands they trust. This legitimacy will push them to buy your product, via your sales tunnel or from an identified retailer, via a conversion tunnel.
Good to know💡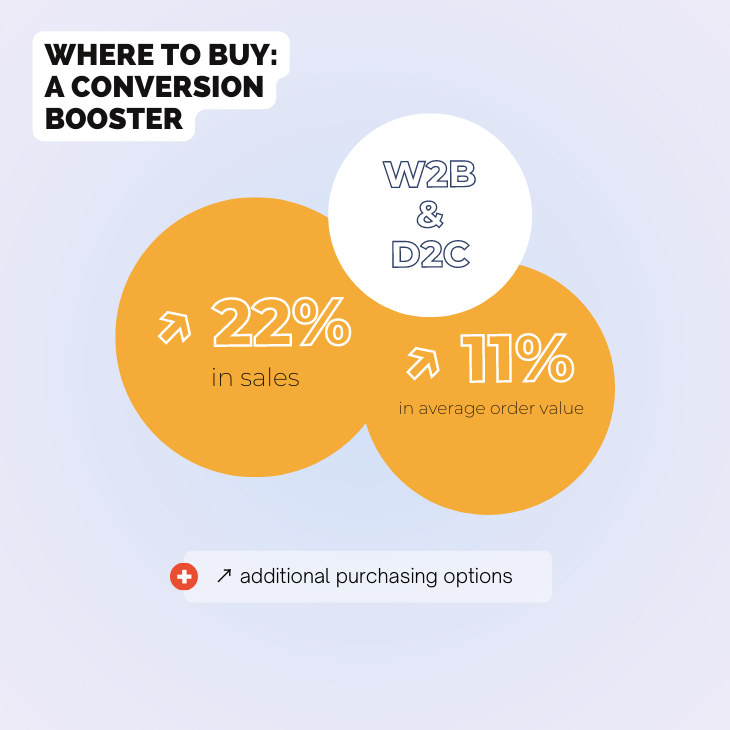 Measure your performance
At Click2Buy, we help you to manage your digital strategies thanks to the analytics tools of our Back Office. Save time with a simple and fluid interface. With integrated tracking, you will be able to collect data and measure the performance of the solution from the button click to check out at one of your chosen retailers. Analyze the different sales channels (digital shelf analytics) by observing your turnover by:
Campaign 

Product 

Reseller 

Purchase origin

This data allows you to calculate your ROI and to know more about your consumers' behavior. Using this precious information, you can better adapt your digital marketing strategy to optimize your efforts.

As you can see, where to buy and e-commerce can perfectly coexist in harmony, despite the objections of some. The goal of this pairing is to give your consumer the full power in terms of decision. Customers appreciate the ability to use multiple distribution channels to make their purchases. If you need more information, reach out to the Click2Buy team below!
What to remember

: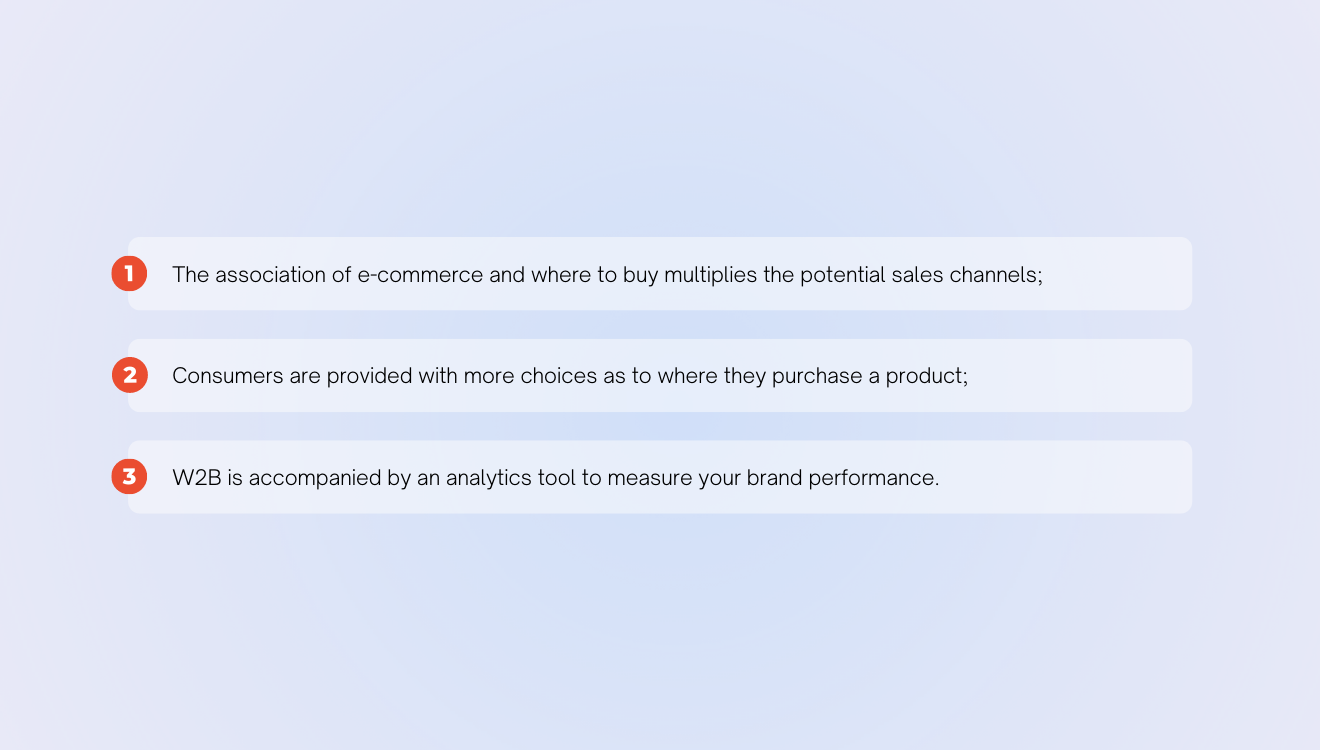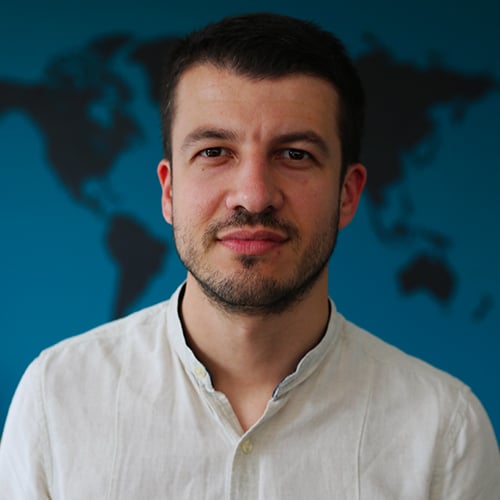 Want to see a live demo?

Curious about how to integrate?

Any questions about pricing?
Still have some questions about Click2Buy?
Sales Director at Click2Buy, Bastien and his team are ready to sit down with you and evaluate how the Click2Buy solution can boost the efficiency and value of your communication channels.
Request a call back during the day or schedule an appointment with the Click2Buy teams in just a few clicks.